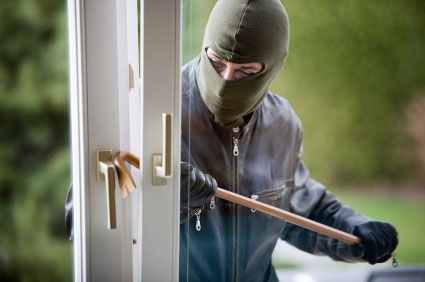 If you own gold and keep it at home, you need to be aware of something.
Thieves watch the news too. And they follow the rising price of gold as closely as you and I do.
Homes and jewelry stores are being targeted for theft more and more often. The huge rises in gold prices this year has seen a corresponding rise in thefts.
This applies to you if your store your gold at home – whether it be in the form of gold coins and gold bars, or gold jewelry.
Here are some brief excerpts from various newspapers, all collected over the last few days.
"Where there is an increase in the value of property, often times we'll notice an increase in thefts of those properties, by people," says Ronnie Ward, officer with the Bowling Green Police Department, "we can just say that the fact that gold is higher, people are going to be looking for easy targets, and easy ways to steal that gold and make money off of it."
"Insurance claims for lost or stolen gold have soared 14 per cent in the first half of this year, compared with the same period of 2009."
"Charlotte-Mecklenburg police said gold thefts have been going up for a while and could continue to rise. They said they will continue to work with places that buy and sell gold to help make sure they are not inadvertently taking in stolen gold."
"Ian Davies, head of underwriting at Churchill Home Insurance, said: "With the rise in gold prices and the decline in value of electrical goods, jewellery is becoming an increasingly attractive commodity for thieves. However, the dramatic increase in the value of gold is also putting consumers at risk of being underinsured. We urge homeowners to check the current value of their jewellery on a regular basis, and to update their home contents insurance cover accordingly if the value of their gold has increased."
"That stunning rise in the price of gold is having a ripple effect: A rash of jewelry store robberies, street muggings and home burglaries. Now, merchants are stepping up security and police are warning everyone against flaunting their bling."
What does this mean to you? Well, if you store your gold at home, you need to ramp up your security, and maybe review your insurance coverage.
As I have said before, for a home safe your best bet is an in-floor safe, buried in concrete in your basement.
If you don't feel secure with too much gold in your house, move some or all of it to a safety deposit box in your local bank.
And, as always, keep your lips sealed. If you never mention the gold you own, no thief will have any reason to believe you might have some at home.
Loose lips lose gold!