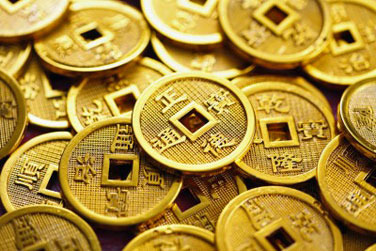 In an earlier post I wrote about how Central Banks around the world have been busy buying gold bullion.
I also mentioned that in China consumer demand for gold is down. And that's true. Consumer demand for gold in China has fallen because their economy is facing some turmoil of its own. Working people have less money to spend on gold coins.
However, what I didn't write about was how the Chinese Central Bank is buying gold faster than ever before.
According to zerohedge.com:
"In July, Chinese gold imports from HK, after two months of declines, have picked up once more and hit a 3-month high of 75.8 tons. While it is notable that this number is double the 38.1 tons imported a year prior, and that year-to-date imports are now a record 458.6 tons, well over four times greater than the seven month total in 2011 which was 103.9 tons, what is far more important is that in the first seven months of 2012 alone China has imported nearly as much gold as the total holdings of the hedge fund at the heart of the Eurozone, elsewhere known simply as the European Central Bank, and just as importantly considering the import run-rate has hardly slowed down in August, which data we will have in a few weeks, it is now safe to say that in 2012 alone China has imported more gold than the ECB's entire official 502.1 tons of holdings."
As a side note, China imports most of its gold through Hong Kong, where they are completing work on its largest gold vault, located within the international airport compound, and due to open in September 2012. It's total capacity? 1,000 metric tons.
Why are the Chinese buying so much gold?
Some clues are to be found in a recent article written by Sun Zhaoxue, president of China National.
Here is a short excerpt:
"As gold is a currency in nature, no matter if it's for state economic security or for the acceleration of renminbi internationalisation, increasing the gold reserve should be one of the key strategies of China." (The renminbi is the official currency of the People's Republic of China.)
He also believes that any sovereign state needs to hold a proportion of its wealth in gold in order to support its paper currency. He states that countries like the US consistently underplay the value of gold in order to protect their own currencies.
"Although the global financial crisis originated in the US, the crisis hasn't shaken the dominant status of the US dollar in the world, and American assets are not shrinking because of dollar depreciation. America's 8,133 tonnes of gold reserves plays an important role in that."
The bottom line? The credibility and stability of any nation's currency is related to that country's gold reserves.
China is buying gold by the ton for two reasons. One, to protect its own currency. And two, to support any future plan it may have to challenge the US dollar as the world's reserve currency and replace it with the renminbi.
Yes, the Chinese are coming!
BTW – you and I should be doing the same. We should be protecting ourselves and our wealth by building our own gold reserves. Paper, fiat currencies can lose value very quickly. Even factoring in rises and falls in its spot price, gold will always hold substantial value.
About the author: DH Kenrick is a student of world economics and a committed gold enthusiast. Follow me on Google+
You can also follow Owning Gold on Facebook…