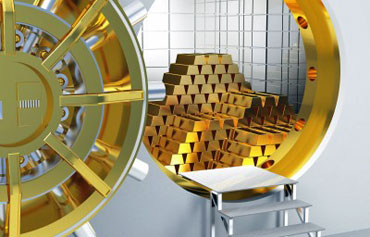 When we think of buying physical gold, we naturally think of holding the gold in our hands and then storing it in a safe place at home, or at our bank.
There is something almost irresistible about actually owning and touching the gold you buy.
But that need to hold your gold in your hand comes at a price, particularly when you buy gold coins and have them delivered to your home.
First, you always pay more for a coin, because of the cost of turning raw gold into a coin. There is a fabrication cost.
Second, you pay a fee to the dealer when you buy.
Third, you pay a delivery cost to get the coin or coins from the dealer to your home.
Fourth, you pay insurance for that delivery.
The outcome? A one-ounce coin can easily end up costing you $100 more than the spot price of gold.
Yes, you are buying pure gold bullion, but you are paying a premium to have it in the form of a coin and delivered to your home.
You can reduce that cost a little by buying gold bars instead of coins. The fabrication costs are a little lower.
But if you really want to slash the cost of buying physical gold, and maximize your investment, with minimum fees, you should consider buying physical gold that is stored in a secure vault and remains there. (At any time you can choose to take delivery, and pay the associated costs.)
One such bullion vault service is called, appropriately enough, BullionVault.
Using the BullionVault service is the secret to buying and owning gold at the lowest price possible.
BullionVault is unique in that it gives private investors access to the professional bullion markets. What does that mean to you? It means you pay less for your gold. You're paying the professional price instead of the retail price.
You buy your gold online, and that gold is then stored in one of their accredited vaults, in Switzerland, the UK or the US.
There are a couple of important factors to consider here.
First, it can make good sense to own some of your gold overseas. This means you have assets in a different country, out of the each of your own government. When you make your purchase, you can choose which country in which you would like your gold stored.
Second, BullionVault deals only in what is known as allocated gold. In other words, if you buy an ounce of gold with them, that one ounce of gold exists in physical form within their vaults. To prove this, they publish a daily audit, showing that all their customers' gold is held in their vaults in physical form.
Next, their dealing and storage rates are low. For buying and selling gold, they charge a fee of just 0.8%. And their storage and insurance fees are just 0.12%. Compare those figures with what you pay a dealer when buying a gold coin, or even with the management fees charged when you invest in a gold ETF.
Let's say you buy some gold with BullionVault. Then what? If you want to sell it, they will take care of that and you'll have your money wired to you the next day. If you want to take physical delivery of your gold, you can do that too.
In addition, you can even buy and sell gold directly to other users on BullionVault. Agree on a price, make the sale or purchase, and bypass the dealer costs.
Can you trust them with your gold? I think so. (I'm a BullionVault user myself.) They are the world's largest online investment gold service and are endorsed by the World Gold Council. They have over 40,000 users and hold over $2.2 Billion in gold and silver in their vaults.
To my mind this is the best way to buy and hold physical gold. The purchase cost and fees are as low as they get, your gold is stored in a secure vault, and you can sell or take delivery of your gold at any time.
What could be better?
Learn more about BullionVault here…
About the author: DH Kenrick is a student of world economics and a committed gold enthusiast. Follow me on Google+
You can also follow Owning Gold on Facebook…