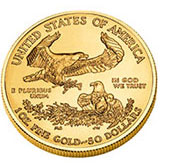 The American Gold Eagle is an official gold bullion coin of the United States.
 Authorized under the Gold Bullion Coin Act of 1985, it was first released by the United States Mint in 1986. Offered in 1/10 oz, 1/4 oz, 1/2 oz, and 1 oz denominations, these coins are guaranteed by the U.S. government to contain the stated amount of actual gold weight in troy ounces.
American Eagle Gold Bullion Coins quickly became one of the world's leading gold bullion investment coins. As with other bullion coins, they are accepted worldwide, but the Gold Eagle is particularly popular within the US itself, where it by far the most popular bullion gold coin.
Produced from gold mined in the United States, American Eagles are imprinted with their gold content and legal tender "face" value. An American Eagle's value is based on the market price of its metal content, plus a small premium to cover coinage and distribution.
Its design was inspired by the work of famed American sculptor Augustus Saint-Gaudens. His design for the $20 gold coin, commissioned by close friend Teddy Roosevelt, is considered to be the most beautiful coin ever produced.
There is no doubt that beyond its monetary value, the American Gold Eagle has a unique aesthetic appeal.