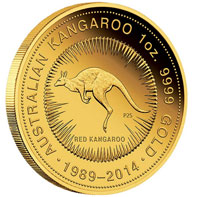 These coins were previously referred to as Australian gold nuggets, and are available in several denominations and weights. They can be purchased in weights including one twentieth of an ounce, one tenth, one quarter, and one half ounce.
Larger coins can also be purchased in sizes including one full ounce, two ounces, ten ounces and even one kilogram. All Australian kangaroo coins are made of 24 carat gold, no other alloy is included in these gold bullion coins.The Australian Kangaroo is a gold bullion coin minted by the Perth mint.
In the county of Australia they are recognized as official legal tender. The 1/20th coin has a value of $5, while the 1/10th carries a value of $15. The value on the ¼ ounce coin is $25 and the half ounce carries a value of $50.
The one ounce coin has a face value of $100. The value of the two ounce coin was originally $500 when it was issued in 1991. Beginning in 1992, the value on this coin was $200. The ten ounce coin started out with a value of $2500, which dropped to $1000 in 1992. The one kilo coin had a starting face value in 1991 of $10,000. This value was reduced to $3,000 in 1992.
The obverse of these coins features Queen Elizabeth II. One feature that makes the Australian kangaroos unique in the world of gold bullion coins is that the design on the reverse changes annually. They are also minted in limited numbers, making them even more valuable to collectors.
The series was first introduced in 1986 by the Gold Corporation. The first issue had two features that made it stand out to collectors. It had a frosted design that gave it the appearance of two different colors, and each coin was encapsulated in plastic.
The early editions, from 1986 to 1989, featured Australian gold nuggets on the reverse of the coin. In 1989, the decision was made to change the design to kangaroos, a true symbol of Australia. Every year, a different kangaroo will be featured on the reverse of the coins.
The larger coins, including the two ounce, ten ounce and kilogram sizes, were only introduced in 1991. The purpose behind these coins was to keep the premiums low. They are different from the other denominations in that the reverse design never changes; the red kangaroo is always the featured design.
More articles on buying gold coins and gold bars…