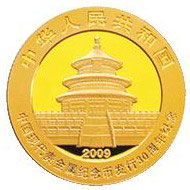 The Chinese Gold Panda is a little different from most other gold bullion coins, like the American Gold Eagle or the Canadian Gold Maple Leaf.
But the Panda is also collectible. Why? Because a new edition, with a new design, is minted each year.The Panda is certainly bullion, as it is minted in 99.99% pure gold. And, as with other bullion coins, it is available in one-ounce sizes, and smaller.
The Chinese Gold Panda has been minted every year since 1982. And there is a limit to the number of coins minted each year.
With a limited minting and the design changing each year, the stage was set for a bullion coin to also become a collectible. As a result, a significant premium is often paid for the Gold Panda. Some coins in the series are rarer than others.
What does this mean to you? Well, if your interest is simply to own an ounce of gold, then you'll probably want to pass on the Panda and buy gold coins with as a low a premium as possible.
But if you are also a bit of a collector, you may like the idea of trying to collect a full set of all 27 mintings of the Chinese Gold Panda.