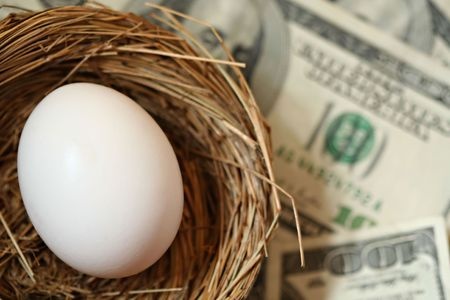 Many people who own gold bullion prefer to take physical possession of their gold, keeping it at home or in a safety deposit box.
However, if you are looking further ahead and thinking about the security of your retirement, you have another option.
You can include physical gold within both an IRA and a 401K. You can't take delivery of this gold, because of the tax issues. So your gold is held by a "custodian".
For all intents and purposes, a gold IRA investment is like owning allocated gold. But it is within your retirement fund.
There are some rules when it comes to the kind of gold bullion you can include.
– Minimum fineness (purity) requirement of .995 for gold and .999 for silver.
– Must not be in the form of rare or collectible (numismatic) coins.
– Must be kept at arm's length from the IRA holder and be secured in a depository for safe keeping.
For example, an IRA can own American Gold Eagle coins, Canadian Gold Maple Leaf coins, American Silver Eagle coins, American Platinum Eagle coins, and gold and silver bars (bullion) that are 99.9% pure or better.
To add gold to your IRA you'll need to set up a self-directed IRA, unless you already have one.
You'll also need to work through a "custodian". This is part of keeping your gold at "arm's length". This means finding a trustee that is willing to set up a self-directed IRA, handle the transfer of funds to the precious metals dealer, and facilitate the physical transfer and storage of the purchased coins or bullion.
In other words, there is a bit of work involved to get things set up.
But once you're ready you can not only add gold to your self-directed IRA, you can make transfers from other IRAs as well as rollovers from qualified retirement plans, such as 401(k), 401(a), 403(b), 457, Thrift Savings Plan (TSP) and annuities.
If this all sounds complicated, you'll be pleased to hear there are a variety of companies that are set up to help you get started.
Goldco Precious Metals
specializes in helping investors set up their gold IRAs.
BullionVault is an excellent, low-cost way to buy allocated gold – very low cost – and also partners with a number of IRA Custodians you can work with.
The same goes for Hard Asset Alliance. (Although their fees are higher.)
There are some setup and administrative fees, whoever you work with. So be prepared for some bills along the way.