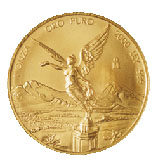 The Mexican Libertad coin is a great way to invest in Mexican gold. Before you purchase a Libertad coin, you should know that it is not as common as other gold bullion coins on the market.
The gold Mexican Libertad coin is sold in 1/20, 1/10, 1/4, 1/2, and 1 troy ounce. These coins are crafted from .999 fine gold and depict a picture of a winged Victoria of Mexican Independence on the front and the Mexican coat of arms on the back.However, it is being distributed around the world and is quickly becoming more popular with gold investors.
The Casa de Moneda de México is the official mint of the country of Mexico and the distributor of the gold Libertad coin. This mint was established in 1535 and is the oldest mint in North America.
Since 1991, they have been creating the Libertad. A second version was later released in 1996 and is still being used today. The newer versions of the Libertad show the winged Victoria in a different angle and also features an updated version of the current coat of arms surrounded by Mexico's coats of arms from the past.
The total weight of a gold Libertad coin is 31.1 grams. This coins is made from 99 percent gold and has one Troy ounce of gold in it. The first Libertads were released in 1991 and had adopted the style of the 1980's gold Mexican Onza.
When purchasing a Libertad, it is important to know the difference between the Onza and the Libertad. They have similar styles but are different in weights and purity.
In addition, the dates that they were minted will be different. The one similarity they do have is they both contain 1 Troy ounce of gold.
Mexican gold bullion coins are a great investment that is sure to bring you back a excellent return. Prior to purchasing a Mexican gold bullion coin, you may want to familiarize yourself with the gold Libertad.
This coin is a fine addition to collections all over the world. And for those people with a true appreciation of history, or simply of Mexico, they are even more valuable.
More articles on buying gold coins and gold bars…