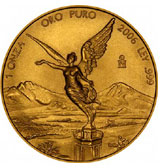 Paper currency can quickly become worthless. Economies around the world fail, governments can be changed, and the investments that seemed so stable just a year ago can quickly become worthless.
It's important to understand the difference between the Mexican Onza and the Libertad, because they are often grouped together and the coins are identical in appearance. In fact, there are only two differences between the two coins. Those are years of minting, and the weight.
However, gold is a stable, solid investment that will never fail its supporters. Gold can be purchased easily, stored securely in a vault, and it will always have a high value to someone in our global market. Regardless of the country you live in, there is always a buyer ready to make an offer on gold bullion coins.
Onza bullion coins were minted between 1980 and 1990. They are .9000 gold and weigh 34.5 grams. The libertads were minted after 1991, weigh slightly less at only 31.1 grams but are .999 pure gold. If the coins are being purchased for the bullion value, they are actually of equal value, since they actually contain equal amounts of gold.
The obverse of these coins features the Mexican Coat of Arms of an eagle dining on a snake. This symbol is ringed by 10 images, each showing a different stage of the eagle's hunt, from its initial search for prey, to the capture of the snake, and the final act of consuming the snake.
The center eagle has the words Estados Unidos Mexicanos printed in an arch above it. There have been years where only the Coat of arms will be shown; the other ten images of the eagle are not included.
The reverse shows a beautiful depiction of an angel with the "lover's peaks" in the background. The Lover's Peaks are two volcanoes in Mexico that are said to represent a prince and a princess from two different Indian tribes. The two fell in love and eloped, resulting in their exile. The design for the Angel is based on the Angel of Independence statue, found in Mexico City.
Collecting coins is more than a hobby. It is taking possession of some small piece of history. It is also a lucrative investment. There is no need to trust the banks, or the paper money printed out by the government.
When your investments are in solid, timeless, valuable gold you will never have to worry about them suddenly becoming worthless. Gold always has been, and will continue to be, an incredibly valuable and stable asset.
More articles on buying gold coins and gold bars…