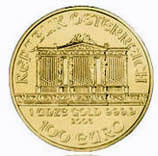 First struck in 1989, the Vienna Philharmonic coin is the only European legal tender gold coin produced on a large scale, and it is the only regularly issued bullion coin denominated in euros.
Minted in 1-oz., 1/2-oz., 1/4-oz., and 1/10-oz. sizes, all Vienna Philharmonics are made from .9999 pure gold. No alloyed metals are added.The Vienna Philharmonic is pure gold, with a fineness of .9999 or 24 karats, and is the largest diameter one-ounce pure gold coin in the world.
A design of musical instruments representing the world famous Vienna Philharmonic Orchestra are shown on the reverse side of the coin. The great organ in the Golden Hall in Vienna's concert hall is the theme for the obverse side of the coin.
The country of issue, the gold weight in ounces, legal tender value in euros, and the coin's purity are also stamped on the reverse side of the coin.
Vienna Philharmonic coins are minted at the Austrian Mint AG, now a subsidiary of the Austrian National Bank.
The Mint was established in 1194 and has remained in its current building since 1837.