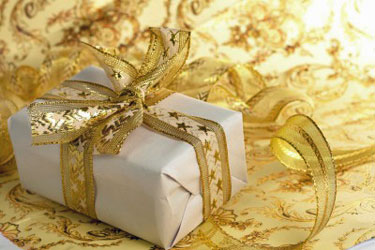 Here in North America we have no tradition of giving gold as a gift.
That's a pity – for the reasons I describe below. And it's not the case in many other parts of the world.
Of all countries, India stands out for the way in which families protect and distribute wealth through gifts of gold jewelry, and have done for generations.
In India gold is given to brides and grooms when they are married. It is also given when a child is born and on other "auspicious" days on the Indian calendar. And as parents grow older, they distribute their gold among their children, passing on the family's wealth to another generation.
In part, the giving of gold can be seen simply as a tradition. The practice is deeply embedded in their culture. But it is also much more than that. By holding their wealth in the form of gold, and giving it away in the form of gifts, they have protected themselves and their families against significant fluctuations in the national currency, the Rupee, and ups and downs in the world's economy.
In China, private ownership of gold was forbidden until about 8 years ago. But now a new tradition has appeared. Again, it revolves around giving gold as a gift. The Chinese don't give jewelry, they give gold coins, nested in presentation boxes. As with the Indians, they are investing more of their wealth into gold, and using it to support and protect their families and friends.
The same is true, to a greater or lesser extent, throughout the Middle East and Turkey.
But as soon as you cross over into Europe, or to North America, there is no tradition of giving gold.
So here we are, in North America, on the cusp of gift-buying season.
We are rushing out to the stores between now and Christmas, running up credit card bills to buy gifts for our families and friends.
And what do we buy? For the most part we buy stuff people don't need, much of which will end up in the basement or at next summer's yard sale. We also buy a lot of junk that will break before the holiday season is even over. And we'll buy tons of electronics we really don't need.
In other words, when we buy gifts, we enjoy both giving and receiving for a few short days, and then it's over. The money is gone. And often the gift is unwanted, un-used, unnecessary or soon broken.
So why not give gold?
When you give gold, nothing is lost. It will hold its value for ever. (Unlike that new smartphone.)
Do this and instead of diluting your family's wealth with every gift-giving season, you will maintain and grow it.
And what's not to like? Wouldn't you like to receive some gold bullion as a gift this Christmas?
You might think that an ounce of gold, at somewhere around $1,750, is a pretty expensive gift. In that the case, you can give smaller, fractional gold coins or bars. You can buy a half ounce, or even a tenth of an ounce.
Turn this into a tradition and each Christmas you'll be growing your family's wealth instead of depleting it.
About the author: DH Kenrick is a student of world economics and a committed gold enthusiast. Follow me on Google+
You can also follow Owning Gold on Facebook…